Web Page Tune Up
Web Page Tune Up is a free tool for analysing and improving the meta tags and html content of a web page, with the objective of helping to improve the search engine ranking of individual web pages. It analyses Meta-Tags and other components of the file, suggesting improvements and providing a simple interface to manage each of these improvements.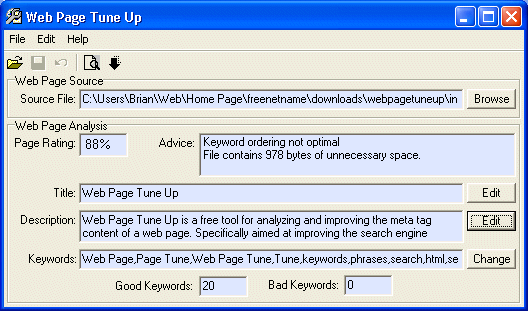 Web Page Tune Up is intended for the webmaster who wants to be able to determine keywords and check on possible page problems quickly an easily. No knowledge of HTML is required, so the tool can be used any anyone.
Key Features are:
Meta-tag keyword analysis:

Identifies candidate keywords and phrases. It is left to your discretion which keywords and phrases you choose to use - or you could let Web Page Tune Up suggest the optimum set of keywords and phrases for you.
Identifies poor keywords and phrases. Some search engines will rank down a page that contains keywords or phrases that have no relevance to the page (i.e. which do not appear on the page).
Allows new keywords and phrases to be added.
Sorts keywords into optimal ordering. Some search engines place greater emphasis on keywords that appear earlier in the keyword list or which appear in the title. For some search engines this can improve the ranking of a page.
Updates the meta-tag information for you (based on your choice of keywords). No HTML knowledge required.

Warns if page lacks a title, description or keywords. Some search engines will rank down a page that does not contain a title or a description.
Allows title and description to be edited.
Removes unnecessary space from the HTML that most WYSIWYG editors put in. This reduces the size of the HTML file, making it faster to download but without affecting the appearance of the page in any way.
No knowledge of HTML required.
System Requirements
Web Page Tune Up runs under MS-Windows 9x and NT/W2K/XP.
Download
To download Web Page Tune Up: follow this link to download it now.
More Information
Please select from the following links below for more information: